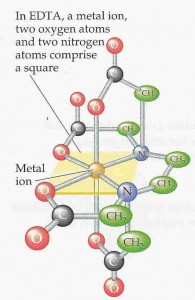 Last week a physician colleague of mine mentioned that chelation therapy is a completely valid and useful treatment for coronary disease. He noted that there are countries where patients can't even get bypass surgery unless they have been through chelation first.
Chelation therapy is when a substance, usually EDTA, is given in order to "sponge up" minerals and heavy metals that can cause inflammation, and perhaps contribute to coronary disease.
My recollection was that chelation therapy had never shown a benefit in clinical trials for coronary disease. My colleague said that there was plenty of good research out there that was beneficial, but that the drug companies, and cardiovascular disease establishment were squashing the data in order to maintain the status quo.
That's quite an accusation. That would mean that thousands of doctors and scientists were engaged in a gigantic conspiracy to keep a valuable, and relatively inexpensive treatment from patients in order to make money through prescription medication, bypass surgery, angioplasty, etc. When you consider that coronary heart disease in the number one killer of men and women, and that many people suffer significant disability from it, this would be a conspiracy far more destructive than any genocide on record. It would make Pol Pot seem like a harmless old curmudgeon.
I decided to do a little research myself and eventually found myself on one of my favorite sites, Quackwatch.com, written by Saul Green, PhD. He has an excellent review of the chelation for vascular disease issue.
There have been some good studies done on chelation therapy, with no benefit shown. There also are a couple of large trials ongoing. There are no studies that show any significant benefit that I could find.
Now maybe Dr. Green has a garage full of Ferraris with bumperstickers that say "I love angioplasty" given to him by the American College of Cardiology, I'm not sure.
Or just perhaps there are some alternative practitioners making some claims (and a lot of money) that are based on marginal science. Hmm, that sounds familiar.