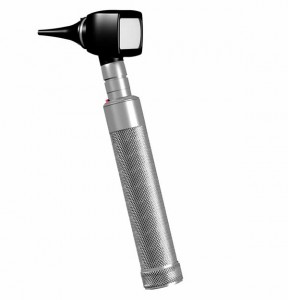 Some people have a compulsion to steal items from the ER that have absolutely no utility to them. Perhaps the most commonly stolen item is the head of the otoscope. The otoscope is a device we use to look in people's ears. It has a detachable head that has a light inside of it and when you look through it into the ear, you can check for ear infections, foreign bodies, and other things. When the head is removed from the holder (which is bolted to the wall), it doesn't work. It is completely useless. Unfortunately, when the head has been stolen, the handle also is completely useless. I can't tell you how many times I've wanted to examine a patient's ears and looked up to realize that there was no head on the otoscope. I actually have considered faking the exam–just holding up the useless handle near their ear and saying "Yeah, looks pretty good all right!" Instead, I go to the nearest empty room (if there is one), cannabilize another otoscope head and bring it back, cursing the vile thief who is wasting our time and money.
Other favorite items to steal include: surgical lubrication, bandaids, tongue depressors, and sterile gloves. Once I walked into a hallway near the exit and found a woman "helping herself" to hospital towels, and about to head out to the parking lot. These are towels that are imprinted with the name of the hospital all over them. They would not look good in your bathroom. I stopped and asked the woman, who was about 70 years old, "Are you stealing those towels?" and she looked down at the floor and said, "Yeah, I guess I am."
I said to her, "You know I've got an idea. Why don't you leave them there for now. Who knows? We might need them." She said okay, and hurried off. I think she needed to get home to dust her otoscope head collection.