Welcome to another installment of the Top 10 Ways to Avoid the ER.
Number 8 – Hire someone else to do it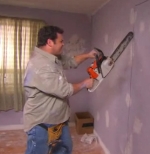 I know, I know, your gutters are full of leaves and the ladder is just sitting there. Or maybe your trees need trimming and you can borrow your neighbor's chainsaw. The problem is that the money you save by not hiring someone else to do these tasks will seem like nothing compared to the costs you will face from any injury. So I want you to really think about this. Are you really comfortable with power tools, working on a ladder, or a roof? I see a steady stream of homeowners who injure themselves doing home maintenance projects, and their only crime is overconfidence. I use my wife as a good measuring stick of when a job is too dangerous for me. She will give me an honest opinion about whether I should do a job myself or farm it out. So if there is any doubt in your mind, before you pick up that skillsaw, pick up the phone instead, and call your local handyman.