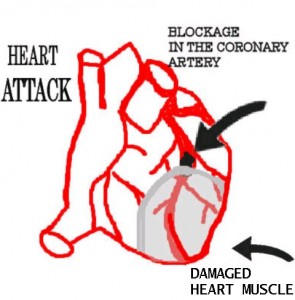 Q:
What is the difference between a mild heart attack and a major heart attack? Isn't a heart attack a heart attack?
Q:
I heard the term
MI
used on another blog. What is that and how do you treat it?
A:
Good questions, let's knock out both at once. Actually you can have tiny heart attacks,
huge heart attacks
and everything in between. A heart attack is when blood flow through the coronary arteries slows or stops resulting in damage to the heart muscle downstream. This is also known as "myocardial infarction" aka MI. Symptoms and the end result vary widely depending on the location of the obstruction in the coronary arteries. Some patients can have a heart attack with minimal pain, and never come in. We diagnose these after the fact. There is even a particular kind of blockage in the coronary arteries that is called the "widow-maker's" heart attack. That's because if a patient has this kind of blockage, it will cause a severe block in blood flow to a large part of the heart, often resulting in death.