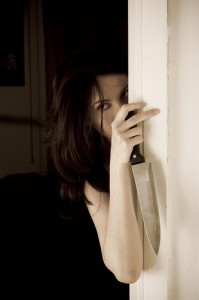 Its very difficult to rank the most bizarre, fascinating or stressful case out there, but a few come to mind.
I
 shall never forget a young woman who presented to the ER with what she reported to be a "cut" on her abdomen. I walked up to her bed in a relaxed way, introduced myself, and said "how did you get a cut on your belly?"
She replied with a smile, "I cut myself!"
 
Something about the way she said that started a couple alarm bells ringing in my head. I asked her if it was an accident, and she said "No, I took a knife and cut myself." At that point, all bets were off. I worried we were dealing with a major penetrating abdominal injury, and perhaps we were about to start a trauma code.
 
I pulled back the hospital gown, and found she had about a 10 inch laceration to her abdomen. But that wasn't all. There was a large amount of gelatinous, yellow-gray goo oozing out of the wound. Now I've seen plenty of wound infections, but this was something entirely different. I was afraid to ask, but I had to know. "Um, what is all this stuff in here?" I asked in my most professional, not at all shocked at what I am seeing voice.
 
"Oh, its noodles, and rice, and some yogurt that I put in there yesterday." She was clearly happy to be giving me this information and even happier to know that I was completely taken off guard by the whole situation. The poor woman had to be taken to the operating room for a thorough wash out, and later, a psychiatric consult.
 
Sadly, "cutting" or "self mutiliation" is something we see frequently in the ER. Usually it is less severe than this case, often times patients cut their forearms superficially. It is rarely intended to be a suicide attempt, but it is always something that I take seriously.