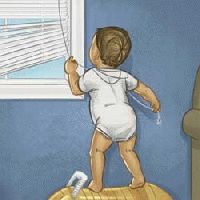 There is currently a major national recall of window blinds due to several strangulation deaths of  children. Apparently many of these blinds were sold at IKEA.
 
I personally have never seen a child who was strangled on a window shade or blind before, but I have to say I am sensitive to the issue. 
 
As a resident, I was in the ER when a 3 year old girl was brought in with choking.  She had been eating a type of candy that was kind of like a big gummy bear.
 
 
Unfortunately, by the time she was brought in to the ER, she was unconscious, and had been without adequate air for about 20 minutes.  We were able to get a tube down her airway, and pull out the candy, but she was brain dead by that time. 
 
That case made me re-think my entire career. 
 
The look on her father's face still haunts me.
 
I'm curious if anyone has any stories of other choking hazards, and specifically problems with window shades or blinds.
 
{ 6 comments }