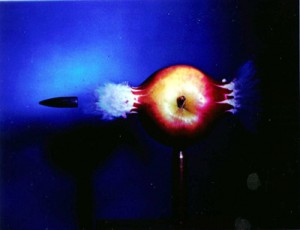 Years ago, a young male was brought in to the ER unconscious. Or rather, he was dropped off by some other men in a car at the back door. They quickly left the premises, burning rubber the whole way. The patient was completely unresponsive, but he didn't have any sign of trauma on him, except for some bleeding from his ear canal. Bleeding from the ear can happen for a variety of reasons, including head injuries. The remainder of his physical exam turned up nothing, and a battery of tests were ordered, including a brain scan.
All the tests came back normal, except for the brain scan. It showed a small caliber bullet lodged in the brain tissue, with a large amount of damage to the surrounding brain.
The entrance wound was the ear canal. It was determined later that he was the victim of a drive-by shooting. Just another random act of violence with a very low probability trajectory.
{ 5 comments }