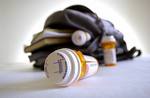 Q:
Dear ER Doc,
In the past, I have given my teenage daughter medications that were prescribed to me.  Some of these were pain pills when she had a sprain, other times, antibiotics.  When is it okay to give my medications to someone else?
Marley, Witchita Kansas
A:
Dear Marley,
In a word, NEVER!  This is a very dangerous practice, indeed.  When you treat another person with pills prescribed to you, you can cause an allergic reaction, unexpected side effects, and possibly even worsen the condition you are trying to help.
Also, prescription drug abuse  among teenagers is a very serious problem, and what you are doing could be opening the door to that.  Teenagers are much more likely to abuse prescription drugs than illegal ones, possibly because they think it is completely safe.  I strongly encourage you to keep your medications out of the hands of other people, especially kids.  You should also dispose of medications when you are not taking them anymore.  Vist this site for more information about prescription drug abuse among teenagers .
{ 3 comments }